England: the sterile and disposable hijab enters the hospital
Nestled in the historic county of Derbyshire, the Royal Derby Hospital, one of two teaching hospitals in the region, prides itself on being at the forefront of innovation.
An innovation which, in this case, relates less to medical technology than to regulatory clothing, that worn in operating theatres. An outfit that could be said to be at the forefront… of the evolution of mentalities.
Indeed, the avant-gardism of which the management of the Royal Derby prides itself and rejoices Farah Roslan, a young surgeon of Malaysian origin, saw with a good eye the introduction of a hijab perfectly adapted to the universe sanitized from the hospital: a sterile, single-use hijab.
Tested and approved in high places, the disposable medical hijab, which will now be able to cross the doors of operating rooms, owes a lot to Farah Roslan, the one who had the first idea. An idea that germinated in her when she began her surgical internship in Lincolnshire.
"It was impossible for me to remove my veil to work, even though I was fully aware of the risks of infection. I would like to point out that I changed my veil every day. It was after asking me, with respect, not to enter the operating theater again that the idea of ​​a sterile hijab came to my mind. said pioneer Farah Roslan.
Fearing infection problems related to the veil she wore throughout the day, the young surgeon, promised a bright future, thought long and hard about creating a custom-made hijab to operate on. She then turned to her native land, Malaysia, to make it in an appropriate fabric and at an affordable cost.
" I am really happy that this hijab was able to see the light of day and that it was accepted, without the slightest objection, by the management of the Royal Derby Hospital. I am now looking forward to seeing if it can integrate other hospitals in the British kingdom", she said enthusiastically. For its part, the British health system (The National Health Service) believes that it will be up to each hospital group to decide whether or not to include the sterile hijab in the compulsory medical outfits.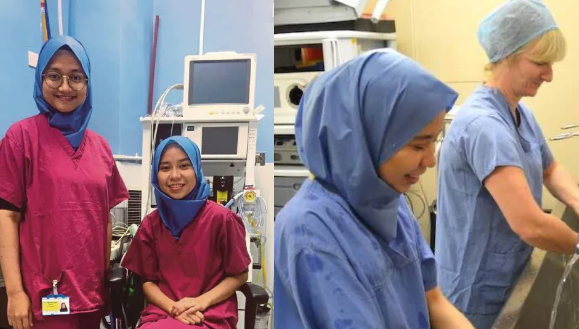 Supported by her mentor, the renowned surgeon Gill Tierney, who is pleased that the hospital where she officiates is a precursor in this field, Farah Roslan can now perfect herself by her side with complete peace of mind. " I am delighted and proud that the management of the Royal Derby has found the best possible solution for everyone, for the patients, the medical staff and Farah, the one who was primarily concerned. It didn't cost much and I hope the effect will be huge here in the UK! she exclaimed.
When we think of the effect produced by wearing the hijab in France, we dare not imagine the effect that the medical hijab would cause, even if it were sterile and disposable…